Yes, this is possible and we recommend it, so you always have your web app at hand.
For Apple devices, simply go to the ePlix login page in the Safari browser and press the share button (small square with the arrow pointing up), select "Go to Home Screen". In the next screen you have the option to change the title of your app icon.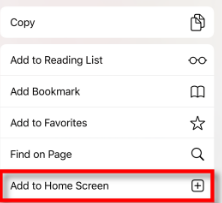 With other operating systems such as Android, it works similarly, but it depends on which browser you are using.